Sharegate is a powerful migration tool designed to simplify and accelerate the process of transferring content between SharePoint and Office 365 environments. This article will guide you through what Sharegate is, its features, pricing, and a step-by-step migration process using Sharegate. Let's dive in!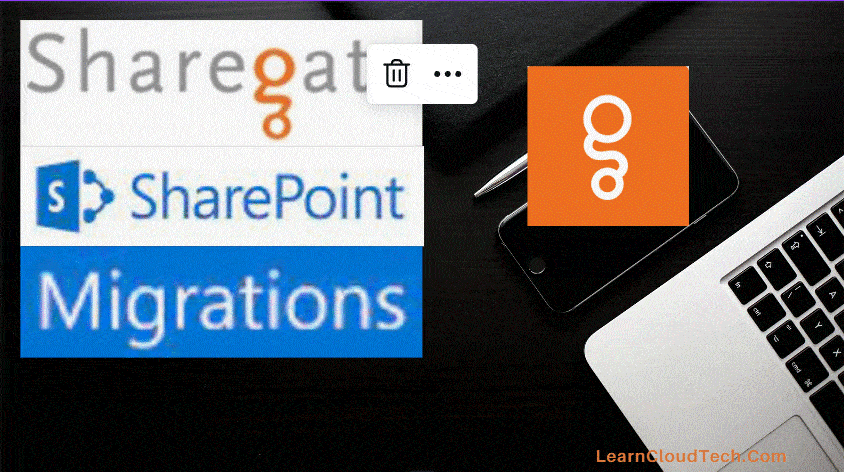 Table of Contents
What is Sharegate?
Sharegate is a leading migration and management tool for Microsoft SharePoint and Office 365. It empowers organizations to seamlessly move their content, whether it's documents, sites, lists, libraries, or permissions, across different SharePoint environments. Sharegate's user-friendly interface and robust features make it a top choice for businesses of all sizes looking to streamline their migration process.
How to Download Sharegate:
To get started with Sharegate, follow these simple steps to download and install the software:
Visit the official Sharegate website (https://sharegate.com/download-migration-tool).
Navigate to the "Products" section and click on "Sharegate."
Click on the "Download Free Trial" button.
Fill in the required information and select your preferred plan.
Once the download is complete, run the installer and follow the on-screen instructions to install Sharegate on your system.
For Sharegate Trial Click here
Features of Sharegate:
Sharegate offers a plethora of features that facilitate seamless migration and efficient content management. Some of the notable features include:
Migration: Sharegate allows you to move content between SharePoint on-premises, SharePoint Online, and Office 365 with ease, preserving metadata and version history.
Pre-Migration Analysis: Sharegate's pre-migration analysis scans your content to detect potential issues before migration, ensuring a smooth and error-free process.
Security Management: Easily manage and transfer permissions during the migration process, maintaining the security of your content.
Reporting and Auditing: Sharegate provides detailed reports on the migration process, helping you keep track of progress and troubleshoot any potential issues.
Content Lifecycle Management: The tool enables you to schedule automated actions, such as archiving or deleting content, based on predefined rules.
Pricing of Sharegate:
Sharegate offers flexible pricing plans tailored to meet the needs of various organizations. While specific pricing may vary, Sharegate typically provides options like monthly or annual subscriptions based on the number of users and features required. They also offer a free trial, allowing users to explore the tool's capabilities before making a commitment.
Step-by-Step Migration Using Sharegate:
Follow these step-by-step instructions to perform a successful migration using Sharegate:
Step 1: Launch Sharegate on your system and connect to the source SharePoint environment.
Step 2: Choose the content you wish to migrate and perform a pre-migration analysis to identify and resolve any potential issues.
Step 3: Map the source content to the desired destination in SharePoint Online or Office 365.
Step 4: Configure migration options, including permissions, metadata, and version history.
Step 5: Initiate the migration process and monitor its progress using Sharegate's real-time reporting.
Step 6: Verify the migrated content in the destination environment to ensure accuracy and completeness.
Step 7: Once the migration is successful, validate user permissions and access to the content.
What Can be Migrated Using Sharegate?
Sharegate is a versatile migration and management tool that allows you to migrate a wide range of content between SharePoint and Office 365 environments. Some of the key items that can be migrated using Sharegate include:
Documents and Files: Sharegate enables you to migrate documents, files, and folders from one SharePoint site or library to another. It preserves metadata and version history during the migration process, ensuring a seamless transition.
Lists and Libraries: You can migrate SharePoint lists, such as task lists, calendar lists, custom lists, and document libraries, with Sharegate. It ensures that all list settings and associated data are transferred accurately.
Sites and Subsites: Sharegate allows you to migrate entire SharePoint sites and subsites, including site structure, content, and permissions. This is especially useful when consolidating multiple sites or restructuring your SharePoint environment.
Permissions: Sharegate enables the migration of permissions and security settings, ensuring that users retain the appropriate access to content in the destination environment.
Web Parts and Pages: Sharegate supports the migration of web parts, wiki pages, and web pages, preserving the layout and content structure in the new environment.
Site Columns and Content Types: Sharegate allows you to transfer site columns and content types, ensuring consistency and continuity across your SharePoint sites.
Workflows: Sharegate supports the migration of SharePoint workflows, making sure that automated processes continue to function as intended in the new environment.
Metadata and Taxonomy: Sharegate ensures that metadata and taxonomy are retained during migration, maintaining the organization and categorization of content.
User Alerts: Sharegate can migrate user alerts, so users stay informed about changes and updates to content even after the migration.
OneDrive for Business: Sharegate facilitates the migration of files and folders between OneDrive for Business accounts, ensuring a smooth transition for individual users.
Office 365 Groups and Microsoft Teams: Sharegate can migrate content from one Office 365 Group or Microsoft Teams site to another, including conversations, files, and associated resources.
It's important to note that Sharegate's capabilities may vary depending on the specific version and licensing of the tool. Additionally, while Sharegate covers a wide range of content types, it's essential to check the tool's documentation and updates for the most current list of supported items to ensure a successful migration process.
Conclusion:
Sharegate is a robust migration and management tool that simplifies the process of transferring content between SharePoint and Office 365 environments. With its user-friendly interface and powerful features, Sharegate streamlines the migration process, saving time and effort for businesses of all sizes. Whether you are migrating to the cloud or managing content within your SharePoint environment, Sharegate is a reliable solution worth considering.
Incorporating AI-powered content into your migration strategy, Sharegate ensures a seamless and efficient transition, making it a valuable asset for modern businesses. Download the Sharegate trial today and experience the convenience of a comprehensive migration tool.