Microsoft has recently launched a new employee experience platform called Viva. To make it simpler for employees to access the resources they require, this platform combines several tools and services into a single platform. We'll go over Microsoft Viva's definition, features, and potential uses for both organizations and people in this blog article.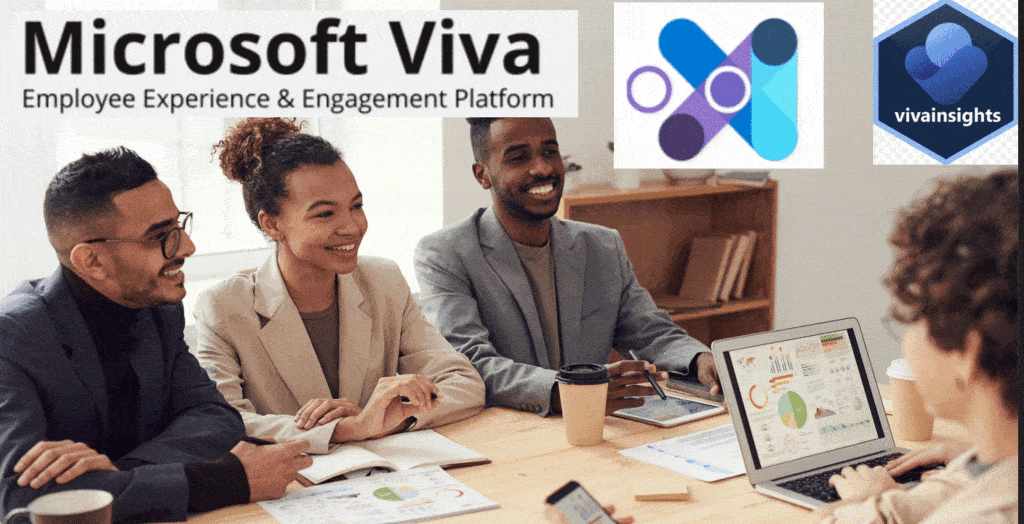 Table of Contents
******************************************************
1. Introduction
In the competitive business environment of today, it is critical for businesses to maintain engaged, productive, and knowledgeable workforces. Giving them access to the tools and resources they need to do their jobs well is one of the simplest and most effective ways to accomplish this. Microsoft Viva can be used in this situation.
2. What is Microsoft Viva?
To enhance the working environment, Microsoft Viva, a digital platform, was developed. It is a set of tools and resources that give staff members access to corporate assets, allow them to stay in touch with other team members, and help them learn new things.
Microsoft Teams, a platform for communication and collaboration used by millions of users worldwide, is the foundation upon which Microsoft Viva is based. For a seamless user experience, it connects with other Microsoft tools including Outlook, OneDrive, and SharePoint.
3. Why was Microsoft Viva created?
Microsoft Viva was created to address some of the common challenges faced by businesses today. These challenges include employee engagement, productivity, and well-being. It's harder for companies to keep their staff connected, educated, and motivated as more people work remotely or from home.
By providing employees access to the resources and tools they need and enabling them to collaborate and communicate more effectively, Microsoft Viva aims to improve the overall employee experience and drive better business results.
4. Features of Microsoft Viva
Microsoft Viva is divided into four modules, each of which addresses a specific aspect of the employee experience. These modules are:
Viva Connections
Viva Connections is a personalized gateway for employees to access company news, policies, and resources. It enables employees to stay informed and engaged with company updates, connect with colleagues, and participate in company culture.
Viva Insights
Viva Insights provides data-driven insights to help employees and managers improve their well-being and productivity. It provides insights into things like work patterns, meeting habits, and communication style, allowing employees to make better decisions about their work habits and schedules.
Viva Topics
Employees may find and share knowledge within their organisation using Viva Topics, an AI-powered knowledge discovery tool. It makes it simpler for employees to find the knowledge they need to complete their tasks by using machine learning algorithms to surface pertinent information and resources.
Viva Learning
A platform for online learning called Viva Learning gives workers the opportunity to learn new things. It gives users access to several educational resources, such as Microsoft Learn, LinkedIn Learning, and independent content producers.
5. Benefits of Microsoft Viva
Microsoft Viva offers several benefits to businesses and employees. These benefits include:
Improves Employee Engagement
Microsoft Viva helps employees feel more connected to their organization and colleagues, which can lead to higher levels of engagement and job satisfaction.
Increases Productivity
Microsoft Viva can help increase productivity by providing employees with the tools they need to execute their jobs. Employees can find ways to improve their work habits and make adjustments to maximise their productivity by using the platform's data-driven insights.
Improves Employee Skills
In order to help employees develop new skills and information, Viva Learning gives them access to a variety of learning tools. This may enable them to advance professionally and take on new tasks within their company.
Simplifies Employee Onboarding
With Viva Connections, new employees can quickly get up to speed with their organization's culture, policies, and resources. This can help simplify the onboarding process and enable new employees to be more productive faster.
Enhances Employee Well-being
Employees can identify areas where they can enhance their well-being and work-life balance with the help of Viva Insights, which delivers insights into work habits and well-being. Employees may be able to avoid burnout and preserve a better work-life balance as a result.
6. How to use Microsoft Viva
To use Microsoft Viva, businesses need to have a Microsoft 365 subscription, as Viva is built on top of the Microsoft 365 platform. Once a company has a Microsoft 365 subscription, they can enable Microsoft Viva by configuring the different modules based on their needs.
Businesses can also customize the platform's branding, policies, and settings to match their organization's culture and requirements. Once configured, employees can access Microsoft Viva through the Microsoft Teams desktop and mobile apps.
7. Conclusion
A new employee experience platform from Microsoft called Viva can assist companies in addressing issues including employee engagement, productivity, and well-being. Microsoft Viva seeks to enhance the overall employee experience and increase company outcomes by giving employees access to the tools they require and enabling them to collaborate and communicate more efficiently.
8. FAQs
Can Microsoft Viva be used by small businesses?
Ans- Yes, Microsoft Viva is designed to be used by businesses of all sizes.
How does Microsoft Viva differ from Microsoft Teams?
Ans- Microsoft Viva is built on top of Microsoft Teams and provides additional modules and features to enhance the employee experience.
Can businesses customize the modules in Microsoft Viva?
Ans- Yes, businesses can configure the different modules in Microsoft Viva based on their needs and requirements.
Does Microsoft Viva require a separate subscription?
Ans- No, Microsoft Viva is built on top of the Microsoft 365 platform, and businesses need a Microsoft 365 subscription to use it.
What is the pricing for Microsoft Viva?
Ans- Microsoft Viva is available as part of the Microsoft 365 subscription, and pricing varies based on the subscription plan selected by the business.